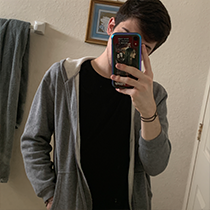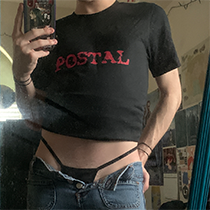 Name: Bryce
Age: 20
Birthday: 12/14/2000
Favorite Color: Blue
Car I Drive: 2006 Blue Chevrolet HHR
Birthplace: Camp Pendleton, California
Hometown: Alvin, Texas
Favorite Food: Chili Cheese Fries
Favorite Drink: Sprite
Favorite Candy: Gummy Worms

Favorite Singers/Bands: The Strokes, Aaliyah, Stars, Crystal Castles, Paramore, Panic! At The Disco, The Cranberries, Arctic Monkeys, Lana Del Rey, Heavenly, Heavens to Betsy, Old Grand Theft Auto Radio Stations (Rise FM, Lips 106, Head Radio, Wave 103, Flash FM...), Mazzy Star, The Postal Service, Katy Rose, Sneaker Pimps, Avril Lavigne, Alice DJ, Lil Kim, Bratmobile, Bikini Kill, Metric, New Order, The One AM Radio, Frank Ocean, Billie Holiday, TLC, Fiona Apple, Lil Uzi Vert, Tuuli, Zero 7, Christina Aguilera, Annie Lennox, No Doubt, Depeche Mode, Blondie, Portishead, Kelli Ali, The Smiths, Cute Is What We Aim For, Britney Spears, Iris, IAMX, Heaven 17, L7, Mindless Self Indulgence, Slyder, Snake River Conspiracy.

Favorite Movies: Thirteen, Closer, The Matrix Trilogy, American Beauty, Jawbreaker, Death Proof, Planet Terror, The Doom Generation, Scarface, A Life Less Ordinary, The Butterfly Effect, Requiem For a Dream, Romeo + Juliet, Pulp Fiction, You've Got Mail, Sugar & Spice, Charlie's Angels, Nowhere.

Favorite Video Games: Half-Life 2, Portal, Left 4 Dead 2, Garry's Mod, Postal 2, Silent Hill, Grand Theft Auto, The Sims, Counter-Strike, Tekken, Saints Row, Fallout, Terraria, Tomb Raider, Emily is Away, The Matrix games, Simcity, Mirrors Edge, Manhunt, Unreal Tournament, Deus Ex.