Heyo! So if you remember from past posts, earlier this year/ late last year I had art in a teen art show at the Contemporary Arts Museum in Houston, TX. It was a website made here on neocities, Myspacebaby.neocities.org set up on an old CRT monitor and shit. (Check it out!!) Here's pix of the exhibit: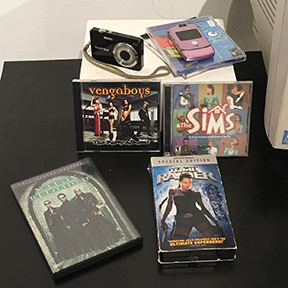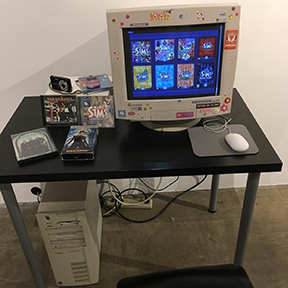 So anyways, a while after getting into the show I was invited to give a presentation (that they gave me $50 for!!??) and I posted about it after I gave it & said i'd post the presentation soon but never did.. so now I am. Just a warning, it's really fuckin long LMAO but if you care enough 2 read it all i love u so much and thank u ♥ hopefully one day we can relive the past. Anways, here's the presentation: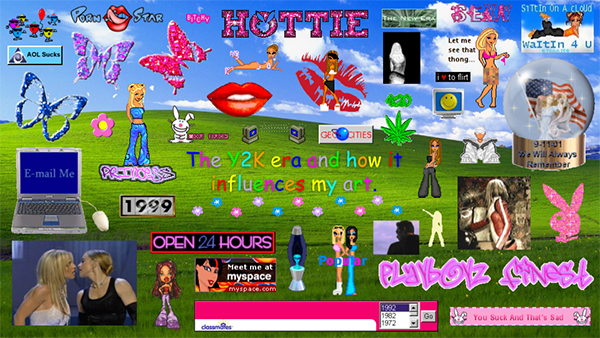 Slide 1: hello I'm bryce, I'm 18, a senior in high school and I built the interactive website titled geocities reloaded. The website was inspired by my deep obsession with every aspect of the late 1990s and early 2000's. specifically the early days of the world wide web. i am infatuated by the idea of the "new millennium" and the aesthetic result of it. shiny metallic colors & patterns, a curiosity for the future of technology, and the boom of the internet. i also find myself intrigued by the huge shift in our country after 9/11 and how, in a way, it seems to have stolen our innocence. comparing how cartoonish and naive the culture during the 1990's could be to the mostly irrational fear of the middle east and involvement in war during the 2000's and later years.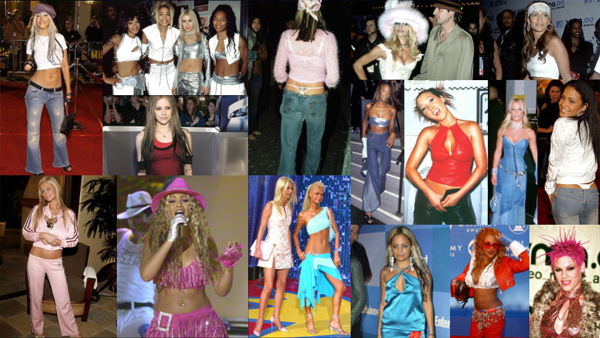 Slide 2: starting with the fashion, the y2k era was a unique time for style. low waisted jeans, von dutch hats, tracksuits, and frosted tips. everyone had their own unique sense of fashion and most styles were fun! Some of my favorite fashion influencers of that era are Paris Hilton, Christina Aguilera, and P!nk.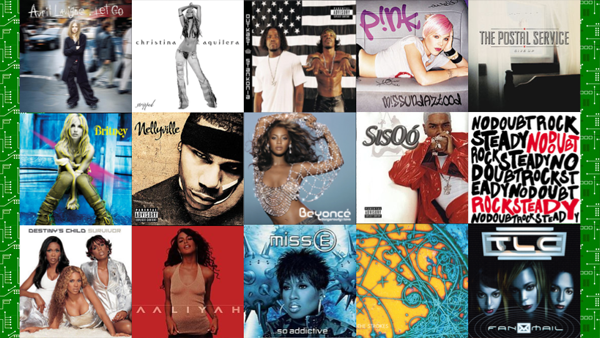 Slide 3: another part of that era that inspires me is the music. the music of the new millennium was amazing. The obsession with the internet was prevalent, from TLC's fan-mail album, which features an album cover that reflects internet culture at the time, to britney spears song "Email my Heart". The fresh look on the internet and the general uncertainty of what it could be was heavily embedded in pop culture at the time.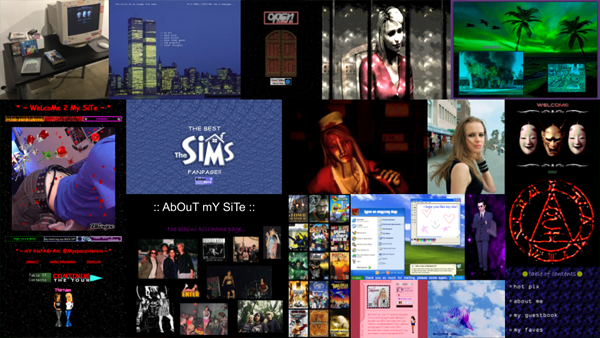 Slide 4: My web page was built with the intention to put all of the things that I've grown to love and admire about the past into one interactive space. I wanted to share my deep appreciation for the past, and hopefully make people nostalgic, or think about a distant memory. For those who weren't around, i wanted to share what i consider to be the beginning of what we have now. Before instagram and snapchat, we had Myspace, LiveJournal, and AIM. One of the most helpful resources for me was a website titled archive.org, where you can find archived web pages from almost any point in time. When i first discovered this site, i spent hours surfing the web for nostalgia. I went to walmart.com in 2004, and myspace.com in 2006, i was beyond ecstatic that i had access to something like this. while browsing the internet archive, i rediscovered geocities, a website I loved as a kid. this is my main inspiration for my website.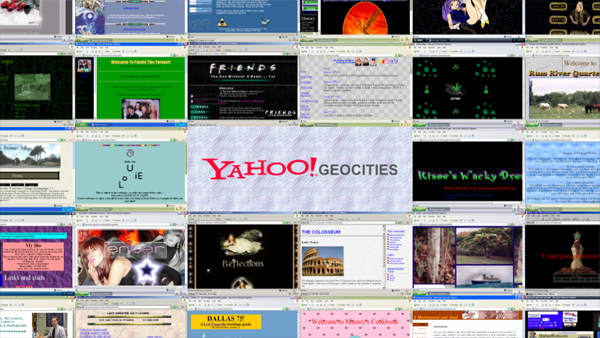 Slide 5: Geocities was one of the most popular free webpage hosting sites from 1994 to 2009. It allowed new users to select from a large list of neighborhoods to build their site in. Neighborhoods were themed sections of the site that had a community for whatever topic was associated with them. For example, the neighborhood SouthBeach was described as a place for "Hanging out, friends, chatting, meeting and greeting." and the neighborhood SunsetStrip was for "Rock, grunge, punk, and the club scene." This way of organizing the site made it feel a lot more like it's own world. You could browse neighborhoods for empty listings to establish your "home". Social media today doesn't even come close to producing the feeling that Geocities gave. Inside the neighborhoods were sub-neighborhoods, this is where your webpage was hosted. For example, inside SouthBeach, your page could reside in Balcony, Disco, Palms, and many more. Sites were full of MIDI files, blinkies, buttons, dollz, obnoxious colors, and guestbooks.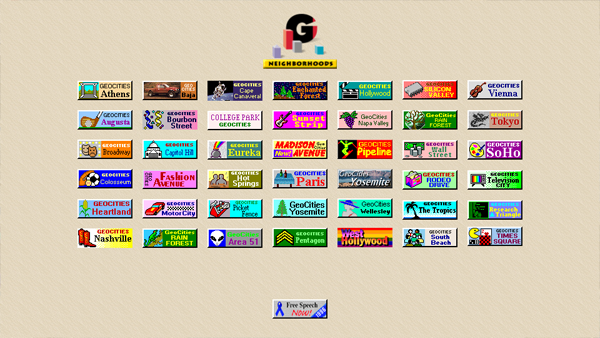 Slide 6: Neighborhoods: paris - romance, poetry, and the arts | pipeline - extreme sports | research triangle - the future of technology | times square - computers, video & role-playing games. | west hollywood - gay, lesbian, bisexual, and transgender topics | soho - art, poetry, prose, and the bohemian spirit.

Conclusion: to sum everything up, the world around the year 2000 was a turning point in history. I would give everything up to experience a piece of the past i so desperately long for, but will never truly understand, no matter how invested i am.

Well that's it :-) I hope you enjoyed & i'll write again later ♥