well hellooooooo. I hope you are doing well. ♥

I've been drinking wine and reading my old posts from 2018-2019 on here for the past hour or so, cringing and feeling nostalgic.
It's crazy to me how fast time goes by! I miss the late 2010's, things were much less complicated.
So much has changed since then! It's crazy what can happen in 4 years.

Anyways, so much has been going on in my life lately! I guess i'll start with the big news:

I FUCKING QUIT KFC. COLONEL SANDERS NO LONGER HAS MY SOUL IN THE PALM OF HIS HAND.

I feel free. Like a weight has been lifted off of me.
The night (Sunday the 11th) I quit was really intense, I'll try to write it out as best as I can remember:

The day before this all happened (December 10th), I worked the night shift (4pm - 10:30pm) and after I got off I went out to eat with my favorite coworkers Joel, Adriana, and her boyfriend Kurt.

The next day Joel called in for the night shift because he wasn't feeling good and thought that he had gotten food poisoning the night before. I had to work that morning from 11am - 5pm.
I remember when 4pm came around, the time I normally get off, I was annoyed because I wanted to go home. I was wanting to clock myself out because we were SO slow and I didn't want to be there until 5.

Anyways, it was 4pm and the only people at KFC other than me was another manager and the morning drive-thru person who stayed at least 20-30 minutes past when she should have.
I would've felt guilty for leaving them alone so I decided to wait until my 5pm replacement, T'antre, came in before I left, hoping he would come early.
My manager, Brittany, ended up coming in before him. Meaning I had to wait until 5.
She was pissed about having to come in, I think that was her off day. She had to come in because Joel called in.
When she got there she came up to me and was like "Are you sick? you went out with everyone last night, right? Did the food make you sick?"
I told her I felt fine and she just walked away fuming. Soon after that, Adriana got to KFC.
Brittany did the same thing to her and Adriana also said no and explained to her that we all ate something different.
That was all that happened during my shift, 5pm came and I left.

A couple hours after I got off, I went out to eat with Kiersten and Korrin.
When I was on my way home, Joel called me and said "Guess who just got fired?"

(Note, Joel sometimes worked more than 90 hours a week. He could do EVERYTHING. He was the most hardworking manager and was up for the assistant GM position. Firing him was a stupid idea.)

I was shocked. He told me Adriana texted him and said that Brittany was talking shit about him, so he pulled up to KFC and confronted her. I think that's when she fired him. After he left Adriana told Joel that Brittany was crying and he texted her and said "Keep crying" with a laughing emoji. I think that was sort of cruel but ... I did laugh a little.
Eventually our coworker Alexis called Joel so he merged him into our call and told him the news. Later on my original manager at KFC, the one who hired me and is now a good friend of mine, joined the call. And then finally Adriana joined the call.
We spent a while discussing the situation and I ended up going to KFC instead of home to meet Joel in the the parking lot of an HEB that is connected to the KFC LMFAO. (I was too nervous to pull into the KFC parking lot.)
Me and Adriana decided that we were going to quit but she had to come out and help Joel pull me out of my car because I hate confrontation hahahahaha.

Anyways, We go to the back door and our coworker T'antre was doing the dishes and we were like "Hey T.. We're quitting.. wanna join us?" And he was like helllll yeah fuck it. LMFAOOO.
Adriana ended up going inside to get Brittany and she came out, LIVID, to confirm that the 3 of us were quitting and we all said yes.
We celebrated in the HEB parking lot before we left. Joel gave Adriana and T'antre a ride home.



Here's some low quality pix of us from that nite: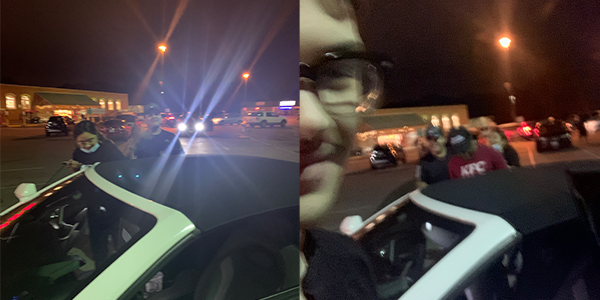 Part of the reason I decided to quit, other than the shitty pay and daily bullshit, was my old manager telling me that she would help me get hired at her job for a manager position that pays more than I made at KFC and I'm currently in the process of being hired there! woohoo.

So yeah... That situation was crazy. I hope I explained it well enough. I am so glad to be free from KFC. FUCK that place.

That took a while to write tee hee. What else has been going on... uhh..

★ I just turned 22! My birthday was really good, I had a great night ♥

★ I almost have the entire Bratz Girls Nite Out re-release collection. I just need Yasmin. Also allegedly there is going to be a Pretty N Punk re-release happening in March of 2023... I need it.

★ I am so balls deep into Dance Moms lore right now. Whenever I do anything I watch / listen to those 2 - 3 hour Dance Moms compilations on youtube in the background. I recently discovered the YT channel MackZBoss and I loooove her videos. She goes in depth into a lot of behind the scenes stuff that happened. I love the videos she does about the producer notes. So good.

★ I bought Tekken Tag Tournament 2 for my PS3, my life is now complete.

I think that's all I have to ramble about right now. I'm exhausted. As Mary in Silent Hill 2 said:

"Well, this letter has gone on
too long, so I'll say goodbye."

I never update my site so it had to be long.. tee hee.
I am so tired, I must go to shleep. I hope u have a good day.
see ya!
---